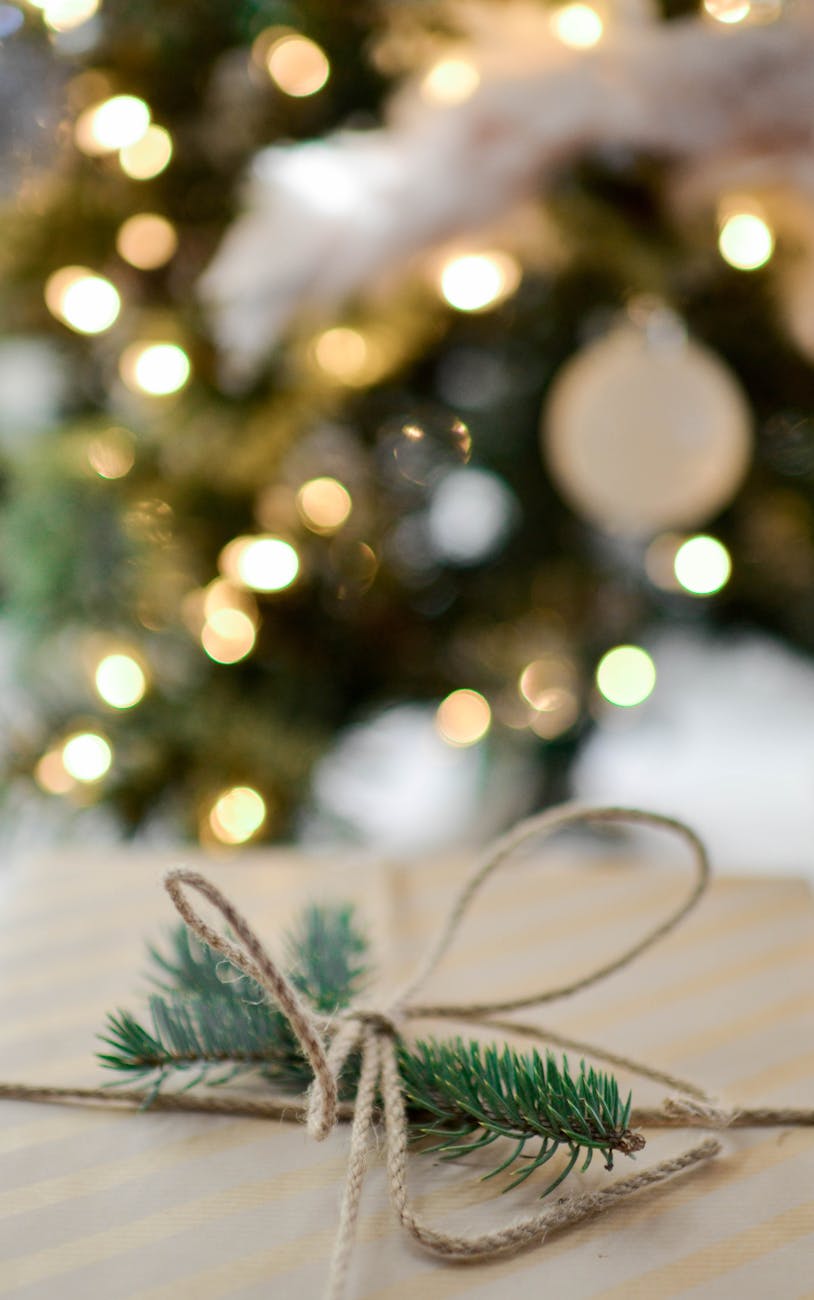 Have you ever gotten burnt out? I know I have! Just plain weary of doing the same thing year after year, day after day. I remember when I first got burnt out with Christmas. I thought it was exhaustion from finishing finals 3 days before Christmas. There just wasn't time or energy to get into the Christmas spirit. When the burn-out continued post-college, I reasoned it was adulthood. I was a child no longer. This must be normal; it was one of those things—like sleepless nights with a newborn—no one talks about. It would change when I had kids. So I waited . . . and waited. And then Quentin came along. With kids, Christmas changed for the better. There was certainly a lot more excitement, especially on Christmas morning. But some things hadn't changed– at least not in the way I was expecting.
You see, what I was missing was not the unconstrained excitement of a child ripping off wrapping paper. What I'd lost was the wonder and awe associated with the miracle of Christ's birth. That excitement can't come solely from Christmas carols, lights, and presents. Little children are amazed at the miraculous story because it is new to them. The story is no longer new to us, but it doesn't have to be dull or routine. We reread or rewatch our favorite books or movies over and over again, never tiring of them. I recently rewatched The Scarlet Pimpernel. I can quote most of the movie. But it is still one of my favorite movies. I loved watching it again. Why? Because even though I know what happens next, there is always some new detail previously overlooked. Some expression explained. Some nuance revealed. The dialogue still makes me laugh. The suspense still excites me. So it should be with Christ's birth. It is a story full of miracles, nuance, and meaning. A story that waited 4000 years to be told. A story full of awe and wonder and joy.
I'd like to look briefly at three women who experienced the awe and wonder of Christ's birth first-hand. I hope they will prove an encouragement and inspiration for us as we seek to reclaim their excitement as our own.
The first component of rediscovering awe and joy is obedience. And the first woman we'll look at is Mary: We cannot experience the awe and excitement of Christ's birth if we are not living in obedience to His word.
Luke 1:26-38
26 And in the sixth month the angel Gabriel was sent from God unto a city of Galilee, named Nazareth,
27 To a virgin espoused to a man whose name was Joseph, of the house of David; and the virgin's name was Mary.
28 And the angel came in unto her, and said, Hail, thou that art highly favoured, the Lord is with thee: blessed art thou among women.
29 And when she saw him, she was troubled at his saying, and cast in her mind what manner of salutation this should be.
30 And the angel said unto her, Fear not, Mary: for thou hast found favour with God.
31 And, behold, thou shalt conceive in thy womb, and bring forth a son, and shalt call his name Jesus.
32 He shall be great, and shall be called the Son of the Highest: and the Lord God shall give unto him the throne of his father David:
33 And he shall reign over the house of Jacob for ever; and of his kingdom there shall be no end.
34 Then said Mary unto the angel, How shall this be, seeing I know not a man?
35 And the angel answered and said unto her, The Holy Ghost shall come upon thee, and the power of the Highest shall overshadow thee: therefore also that holy thing which shall be born of thee shall be called the Son of God.
36 And, behold, thy cousin Elisabeth, she hath also conceived a son in her old age: and this is the sixth month with her, who was called barren.
37 For with God nothing shall be impossible.
38 And Mary said, Behold the handmaid of the Lord; be it unto me according to thy word. And the angel departed from her.
God did not give Mary an easy task. She was young, unmarried, and would face horrific gossip and criticism from those around her. We look back and consider that Mary was given the greatest task and blessing any woman has ever received. But she might have been tempted to feel God was ruining her  life–that what he asked of her was too difficult. She could have said, "Why me?" She could have fought God's plan. But she did not. Instead, she believed the angel and willingly accepted God's role for her. The cost would be great. Her betrothed almost divorced her. No doubt family and friends turned against her for her seeming immorality. She would have the privilege of raising the Son of God, but she would also have to flee for her son's life to a strange country. And 33 year later, she would experience the greatest sorrow a mother can know—watching the death of her first-born son. And yet she did it willingly. There is no indication that she fought God or even considered refusing His plan. Instead, she said, "Behold the handmaid of the Lord; be it unto me according to thy word" (Luke 1:38).
Is there anything God is asking us to do that we are holding out on? Are we fighting Him? We may not always like God's plans for our lives. I know there have been several times in my life when I felt God had really messed up–again! I was not happy with His plan for my life, and I made sure He knew it. But there was no joy in the battle. God promises peace to those who focus on Him (Isaiah 26:3). And He guarantees "fullness of joy" (Psalm 16:11) for those who choose "the path of life" and seek His presence. No where does He say life will be easy. But He does promise to "never leave you or forsake you" (Hebrews 13:5). The first step to rediscovering joy at Christmas is to stop fighting Him and accept His plan for our lives, whatever it may be.
The second component of finding awe and joy is worship. There are so many things to love about Christmas—the lights, decorations, music, gifts, and traditions. But sometimes we get so wrapped up in the extras we forget about the true purpose for Christmas. We've sung the carols so many times, we no longer pay attention to the words. We've read the Christmas story over and over, so we gloss over it and forget to stop and worship God for the great miracle that took place.
Elizabeth and Mary hadn't seen each other in a long time. They had so much to tell each other. But they didn't get sidetracked with the latest gossip. They immediately took the time to worship God for what He had done.
Luke 1:39-45
39 And Mary arose in those days, and went into the hill country with haste, into a city of Juda;
40 And entered into the house of Zacharias, and saluted Elisabeth.
41 And it came to pass, that, when Elisabeth heard the salutation of Mary, the babe leaped in her womb; and Elisabeth was filled with the Holy Ghost:
42 And she spake out with a loud voice, and said, Blessed art thou among women, and blessed is the fruit of thy womb.
43 And whence is this to me, that the mother of my Lord should come to me?
44 For, lo, as soon as the voice of thy salutation sounded in mine ears, the babe leaped in my womb for joy.
45 And blessed is she that believed: for there shall be a performance of those things which were told her from the Lord.
When Elizabeth heard the news, she worshiped. So did her unborn baby, John the Baptist, who leaped inside her. She blessed the unborn Savior and Mary, His mother. She recognized the amazing significance of this miracle when she said, "And why is this granted to me that the mother of my Lord should come to me" (Luke 2:43). She knew Mary was the mother of the Messiah. In verse 45 she also blessed Mary for her belief in the angel's message and her willing obedience.
Elizabeth was not the only one to respond to Christ's coming with worship. Mary also worshiped the Lord in her Magnificat:
Luke 1:46-55
46 And Mary said, My soul doth magnify the Lord,
47 And my spirit hath rejoiced in God my Saviour.
48 For he hath regarded the low estate of his handmaiden: for, behold, from henceforth all generations shall call me blessed.
49 For he that is mighty hath done to me great things; and holy is his name.
50 And his mercy is on them that fear him from generation to generation.
51 He hath shewed strength with his arm; he hath scattered the proud in the imagination of their hearts.
52 He hath put down the mighty from their seats, and exalted them of low degree.
53 He hath filled the hungry with good things; and the rich he hath sent empty away.
54 He hath helped his servant Israel, in remembrance of his mercy;
55 As he spake to our fathers, to Abraham, and to his seed for ever.
In the midst of doubt and uncertainty, Mary recognized the great miracle being done in her. She was not grudgingly fulfilling God's plan for her. She acknowledged God as her savior and praised Him for His power and mercy. She recognized what was happening was the fulfillment of prophecies and promises given generations before. I love her comment, "He has filled the hungry with good things, and the rich he has sent empty away" (Luke 2:53). She's not talking about physical goods here, but of spiritual satisfaction. If we seek God, He will fill us. He is our source of satisfaction and joy. Possessions do not satisfy. This is something we need to teach our children, especially at Christmastime. Giving gifts is a wonderful tradition and a great way to show our love to others. But if the focus of Christmas is the presents, the joy will be brief and the let-down that comes after will be depressing. Only the joy that comes from a vibrant relationship with Christ will last after Christmas Day is over.
The third component of rediscovering awe and joy is sharing or giving. For this I want to look at Anna. Luke describes her as someone "who did not depart from the temple, worshiping with fasting and prayer night and day" (Luke 2:47). She was obviously a very godly woman. The whole focus of her life was worshiping God and waiting for the Messiah. Of course, as an elderly widow she did not have the constraints on her time that some of us have. We can't leave our children and husbands to fast all day and pray all night. But our desire and goal should be to make spending time with God a priority every day.
Luke 2: 36-38 (This is when Mary and Joseph took Baby Jesus to be dedicated at the temple.)
36 And there was one Anna, a prophetess, the daughter of Phanuel, of the tribe of Aser: she was of a great age, and had lived with an husband seven years from her virginity;
37 And she was a widow of about fourscore and four years, which departed not from the temple, but served God with fastings and prayers night and day.
38 And she coming in that instant gave thanks likewise unto the Lord, and spake of him to all them that looked for redemption in Jerusalem.
Verse 36 tells us Anna was a prophetess. There are two kinds of prophecy: foretelling and forth-telling. We don't know if she did any foretelling, but she certainly did some forth-telling. She was so full of excitement over Christ's birth, she just had to speak of Him to everyone she met. I'll admit I am too often afraid of people and what they will think of me to speak of Christ to everyone I meet. Anna is a challenge to me. One of the purposes of Christmas is to share the good news with others. Anna fulfilled that purpose. She was so full of excitement and joy, she couldn't keep quiet. We should be full of that same unconstrained excitement.
We often hear that Christmas should be about giving. Usually this is in reference to gifts. And gift giving is a wonderful way to show love to others. But if we are really filled with awe and joy about Christ's birth, we should want to give His story to others, too.
Christmas is often a time when people are more open to listening. I know there are many ways to share the joy of Christ's birth. A simple one is making sure any Christmas cards or letters we send out clearly express our faith in Jesus Christ and His gift of salvation.
Often people are willing to come for a Christmas service, even if they never set foot in church the rest of the year. Visiting neighbors, inviting others into our homes for a Christmas dinner or tradition, and being willing to talk about the real reason for Christmas are other ways we can share Christ. It is easy to do this when you have kids! Everyone wants to know what Santa is going to bring them. I'm purposing this year to be more bold than ever before in gently explaining that we don't celebrate Santa, but instead celebrate the birth of our Savior. It may make people uncomfortable, but it is what Anna would have done.
If we are feeling burnt out, worn down, or discouraged, maybe this is the year to reevaluate the Christmas season. Maybe it is time to take a new look at the traditions and activities we are involved in. Are we allowing friends, family, Hallmark, or Pinterest to tell us what we must do to have a special Christmas? Are there things that are distracting us that need to go? And once we've removed the distractions, we then need to find some ways to add Christ back into Christmas–to obey, worship, and share His message.
One new thing I'm doing this year is Scripture writing the prophecies and stories of Christ's birth. There are so many prophecies about Christ's coming. It is amazing! Isaiah is full of the news of Christ's birth. How could anyone read it and not know the Savior has come? Writing Scripture has been a great way for me to slow down and really pay attention to Christ's birth in a worshipful manner.
So let's find some ways to rekindle that excitement. Whether it is creating a Christian Advent calendar or Jesse Tree with your kids, or doing random acts of kindness, or baking for your neighborhood, or going Christmas caroling, or just spending some serious time studying the story of one of God's greatest miracles, let's rediscover the joy of Christ's Christmas miracle. It is a far more amazing story than any Hallmark movie!